Kickstart your training for City-Bay 2021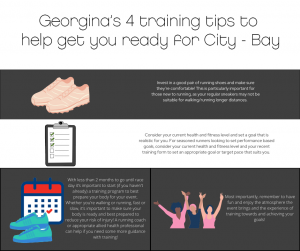 Those braving cold winter mornings will notice the annual increase of runners pounding the pavement as they begin their preparation for Adelaide's 2021 City-Bay.
Sportsmed is a proud partner of City-Bay and this year, to help runners and walkers of all abilities prepare, we've asked our team of experts to provide weekly tips and training advice to help you prevent injury and maximise your performance.
This week Georgina Kiel, sportsmed Exercise Physiologist and keen long distance road and trail runner, shares her tips on prepping for this year's iconic fun run.
1. Appropriate footwear. Invest in a good pair of running shoes and make sure they're comfortable! This is particularly important for those new to running, as your regular sneakers may not be suitable for walking/running longer distances.
2. Realistic goals. Consider your current health and fitness level and set a goal that is realistic for you. For seasoned runners looking to set performance based goals, consider your current health and fitness level and your recent training form to set an appropriate goal or target pace that suits you.
3. Coaching and/or training plan. With less than 2 months to go until race day it's important to start (if you haven't already) a training program to best prepare your body for your event. Whether you're walking or running, fast or slow, it's important to make sure your body is ready and best prepared to reduce your risk of injury! A running coach or appropriate allied health professional can help if you need some more guidance with training!
4. Most importantly, remember to have fun and enjoy the atmosphere the event brings and the experience of training towards and achieving your goals!
Georgie is available for exercise physiology consultations at our Stepney Healthcare Hub and Morphett Vale.
Please phone to get in touch or email physio@sportsmed.com.au